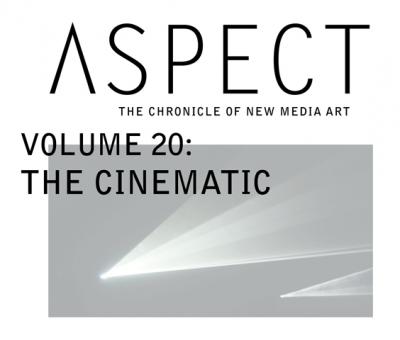 OPEN CALL DUE APRIL 1, 2012
ASPECT: The Chronicle of New Media Art, a biannual DVD publication, is currently accepting submissions of time-based work for V20: THE CINEMATIC.
New genres of artmaking are heavily informed by the cultural, formal, and theoretical issues surrounding popular cinema. We seek works that explore the complex relationship between cinema and new media. We will review installation, video, performance, sound and any other work best documented in time-based format.
ASPECT asks artist/commentator pairs to submit proposals of time-based work. Commentators may be curators, historians, critics, or educators who can offer a distinct perspective on the work. Criteria for selection will include the qualifications of the commentator and the quality of the work. Audio recordings of the commentary will be assembled after the submissions have been selected.
SUBMISSIONS MUST INCLUDE:
-Video documentation (less than 15 minutes in length)
-A brief (100 word) statement regarding the submitted work
-Resume of the artist, resume of commentator
-Contact information for the commentator and artist
-Brief notes outlining the proposed commentary w/ respect to theme
Submissions must be received by April 1, 2012, sent to*:
ASPECT: The Chronicle of New Media Art
46 Waltham Street, suite 108
Boston, MA 02118
617.695.0500
* please do not ship with signature required