V16: Lo-Tech
You are missing some Flash content that should appear here! Perhaps your browser cannot display it, or maybe it did not initialize correctly.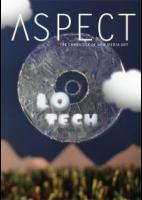 V16: Lo-Tech
Fall 2010
Volume 16: Lo-tech presents nine artists who work with basic, or in some cases antiquated technology, either as an aesthetic or technical choice. As the rate of technological advancement increases, nostalgia for fleeting technologies swells. The term lo-tech also describes modern techniques and equipment which are no longer cutting-edge. Today's innovative technology is tomorrow's lo-tech with all the accompanying cultural and psychological references, connotations, and baggage.

In these works, bodies cooperate with electricity to transmit signals, stickers function as pixels, plastic letters and water work wonders, video is addressed as construction paper, anthropomorphic shrimp roam the streets, home movies are transformed, an homage is paid to an iconic drumbreak, the mechanics of the view camera are exploited, and neighbors engage through video.
Credits: